Reputation Defender: Review, Pros & Cons
•
Business
•
2nd August, 2023
•
5 Mins Read
Since the internet is swarming with thousands of businesses in the same niche, it is difficult for one business to keep its online presence intact. What is even more difficult is to keep their online reputation unharmed. That is why there are online reputation management tools like Reputation Defender.
If you are a small or medium-sized brand, you may look for reputation management tools like Reputation Defender. But is reputation defender worth using? Is this tool reliable? What is their price package? What safety precautions do they provide? Calm down. I know you have all these questions.
If you are choosing a reputation management tool for online brand presence, give this review of Reputation Defender a quick read. It should help you make the right decision.
What Is a Reputation Defender?
Reputation Defender is a Tempe, Arizona-based privacy space and online reputation management company. They offer reputation management services for businesses that want to keep their online reputation clean. Reputation Defender has been around since 2006.
They claim to be the Global leader in Cyber security. They have millions of uses in more than 150+ countries. They provide reputation management and privacy solutions to both individual business entities and enterprise-level businesses across industries.
They want to empower businesses online by removing personally identifying data from people-search databases, ensuring that correct data shows for the most prominent search results, etc. Their service can also mean putting the best online presence and staying active on social media.
They have been in the industry since 2006 and are one of the best platforms for businesses to keep their reputation clean.
Read More: Mastering The Art Of Inbound B2B Marketing Funnels
What Is Good About Reputation Defender?
Reputation Defender itself has a good reputation (no pun intended). But is it the ORM platform you should opt for your brand's reputation management online? That question brings you to this portion of this article.
Yes, this service provider does lots of things for your brand. Yet, they have some drawbacks that you must take into consideration when choosing an ORM provider. Here are some necessary pros and cons I would want you to take a look at –
Custom Attention
Custom Defender does not use a one-size-fits-all approach for the solution they provide. They customize their services based on your business needs. They assign you a custom reputation manager who monitors the presence of your brand and points out your brand's current needs.
It is not a tool that solves all your needs with one click; ORM does not work like that. They will be available for you whenever you need them. You can ask them for your queries on the phone, and they will be available for you. They will analyze your situation and provide you with the best course of action. The best part is that they provide you with confidence in what is doable and what is not. They are true to what's possible and what is not.
Quick Customer Service
So, you paid for one of the services provided by Reputation Defender, and something goes wrong. If that were to happen, you can quickly reach out to them, and they will respond. They have a very responsive customer care service. You will find countless reviews and testimonies regarding how fast their response and commitment to your problems are.
Reputation Defender stays at the top of the ORM industry because of their quick customer support.
You can expect them to return your call and reply to your emails regarding the problems you are seeking answers to. What's best is that they include a time frame saying when you can expect the solution to your queries.
Transparent And Skilled Agents
Reputation Defender has skilled agents, and their service does not feel like a ripoff. You will not be promised something they cannot deliver. Their agents have a very respectful approach, and they will come straight to the point.
They will analyze, monitor, work, and report the results of their efforts regularly. You will see how their tactics are paying off to keep your brand's reputation clean online.
Content Strategies
Now, your brand will overshadow the competitors thanks to the organic, industry-specific, and trendy content strategies Reputation Defender provides. They will provide your brand with the right content strategy for your brand that will eventually help your brand spread more positive stuff about them online. Their content is of high quality without any fluff. A good content strategy will always help you stay ahead in the game and keep rising higher in the SERP.
What's Not So Good About Reputation Defender?
Well, I have already shared most of the good stuff about this ORM platform. Here are some cons of their service.
They Don't Work Well On Reputed Platforms
When your website already has high traffic, you cannot expect to push down the negative reviews you have on them. Reputation Defender does not make the bad stuff go away technically. Instead, they take a very organic approach to overshadow the negative side through effective and positive content strategy.
However, it is not impossible. Reputation Defender will take more of your time if the reputation on pages ranking #2, #3 is negative.
Expensive
If you expect a higher level of services through entry-level packages, then you might be disappointed. However, this does feel reasonable, given their reputation and existence in the industry. Their service is of high quality, and as a result, they do charge some high payments. Many Of the clients have also mentioned paying as much as $10000 for their services.
However, if your brand has an unreasonably excessive amount of misleading information circling around, they will not charge that much – at least not $10000.
Reputation Defender Pricing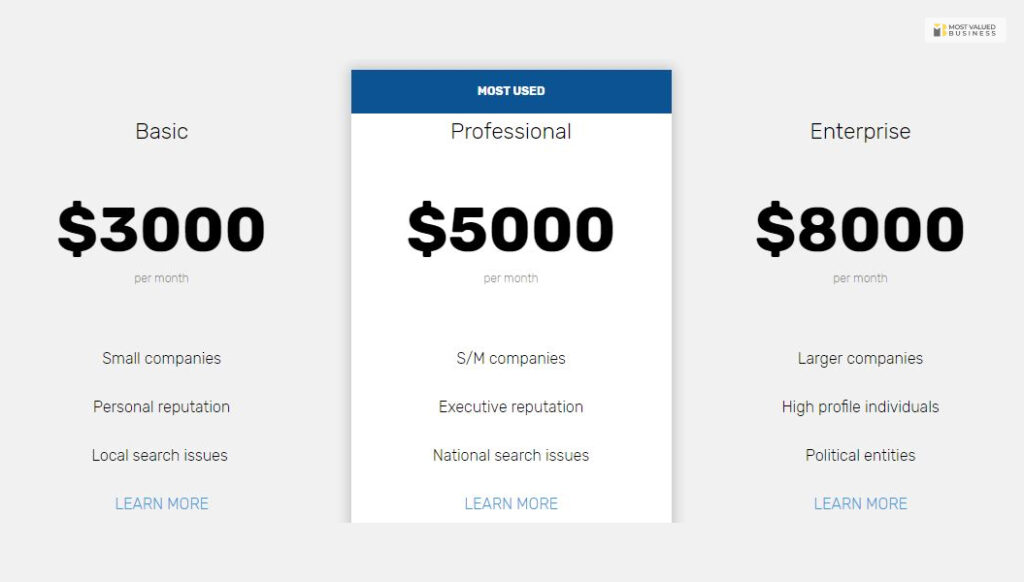 There are different features and strategies provided through the toolkit of Reputation Defender. However, there is no individualized pricing plan for their services. Their services do promise you results regarding what you want to show to your audiences through content strategy.
But, there is no mention of any clear pricing plan on the platform. So, you have to contact their sales team to discuss pricing quotes for the specific services you are looking for.
Read More: What Is Interactive Marketing? Explained With Examples
Bottom Line
Reputation Defender is one of the best ORM Platforms out there. But their services are not affordable for small businesses, with lots of misleading information circulating online. Indeed their services are not unreasonably pricy, and their services are also worth considering.I hope that this article was helpful. However, if you need us to answer any of your queries about ORM platforms, you can comment below.
Read Also: